100,000 TPA Zinc Oxide Production Line in Kaifeng
1. Project overview
Project site: China•Henan•Kaifeng
Construction unit: Kaifeng Xinke Zinc Industry Co., Ltd.
Product name: Zinc oxide production line
Production scale: zinc oxide production line with an annual output of 100,000 tons
Service scope: from storage and transportation of raw materials, calcination and cooling, to finished product storage and transportation system, environmental dust collection system, exhaust gas dust removal and desulfurization and deodorization system, process design of electrical automation control system, plant planning, equipment supply, equipment installation and commissioning, after-sales service training and other one-stop technical services.
2. Project description
As the first batch of key projects of the "5313" project in Kaifeng City, Kaifeng Xinke Zinc Industry Co., Ltd. has invested 90 million yuan in the reconstruction of the original production facilities in Wanli Village, Weichuan Town, Weishi County, Kaifeng City in order to meet the needs of upgrading and transformation of existing production facilities. At the same time, the raw material secondary zinc oxide is replaced with zinc-containing wastes such as zinc-containing electrolytic waste, soot, wet mud, smelting slag, etc., with an annual production of 100,000 tons of zinc oxide.
The original production line of 30,000 tons of zinc oxide and 20,000 tons of zinc calcine is planned to expand a Φ3.6*59m zinc oxide production line based on the original production capacity of 50,000 tons. The new production line will be a 70,000 tons of zinc oxide project. After it is completed and put into production, it will reach a production capacity of 100,000 tons of zinc oxide and 20,000 tons of zinc calcine. The main equipment: a set of Φ3.6*59m rotary kiln, the process adopts reduction play, chemical compound production of metal compounds, zinc oxide recovery. The main raw materials of this process are electrolytic waste, electroplating waste, soot, wet mud, smelting slag and other zinc-containing wastes, with an annual disposal capacity of 400,000 tons.
3. Design principles
(1) On the premise of meeting the requirements of production scale, the host adopts stand-alone and single-line equipment to achieve the purpose of smooth and compact production line, save land, and increase land use rate.
(2) The auxiliary equipment is based on the principles of stability, reliability and energy saving to ensure normal production, high quality, high yield and low energy consumption.
(3) Fully integrate the local natural conditions, optimize the design plan under the process and production conditions, and reduce the project cost as much as possible.
(4) Conscientiously implement relevant environmental protection, laws, regulations and standards, strictly control environmental pollution, reduce pollutant discharge, protect and improve the environment, and realize safe and civilized production.
4. Project implementation
Kaifeng Xinke Zinc Industry established a project team in January 2017 to inspect Henan Zhengzhou Mining Machinery Co.,Ltd. and other manufacturers, and visited the project site of Henan Zhengzhou Mining Machinery's zinc oxide production line in Zhongning Ning Chemical Trade, and fully affirmed Henan Zhengzhou Mining Machinery. After serious consideration and repeated consultations, Kaifeng Xinke Zinc finally decided to sign a business contract with Henan Zhengzhou Mining Machinery. The main equipment is the φ3.6×59m rotary kiln. The φ3.6×59m rotary kiln has the characteristics of good quality of calcined products, large capacity, high operation rate, high heat transfer efficiency, low energy consumption, stable and reliable operation, simple operation and maintenance, and long life of the whole machine. Fully meet the requirements of energy saving, consumption reduction and environmental protection.
The one-off inspection was successful in July 2017, and all the indicators met the customer's requirements. The customers of Kaifeng Xinke Zinc Industry were very satisfied.
5. Main Equipments
| | | | |
| --- | --- | --- | --- |
| No. | Name | Model | Quantity |
| 1 | Rotary kiln | Φ3.6×59m | 1 set |
| 2 | Cooler | Air cooling | 1 set |
| 3 | Dust collector | | 1 set |
| 4 | Electrical instrument | | 1 batch |
| 5 | Desulfurization and denitration system | | 1 set |
6. On-site pictures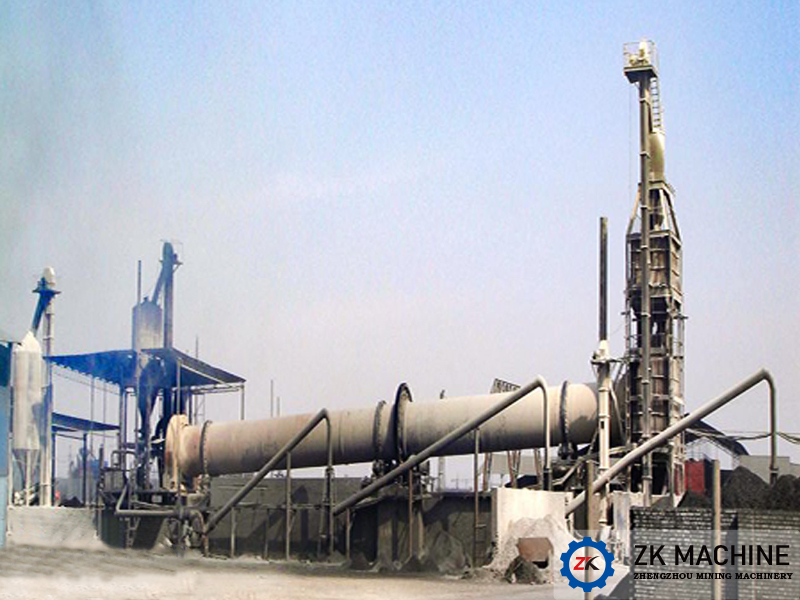 Related Products
You can get the price list and we will contact you within one business day!