Introduction
Disc Granulator
is divided into unpowered scraper disc granulator (PQW) and powered scraper disc granulator (PQ). The two kinds of disc granulator are all have the feature of simple structure, convenient operation, the moisture of pellet can be easily control and high hardness. The disc granulator adopts massive structure, the disc bottom reinforced by multiple radiation steel plate. The motor and reducer adopt flexible belt driving, so the life time is increased by the smooth start and low impact.
We supply rich models and laboratory type to meet your requirements. More information and price, please contact us!
You can also bring or send materials to our factory to make a granulation experiment.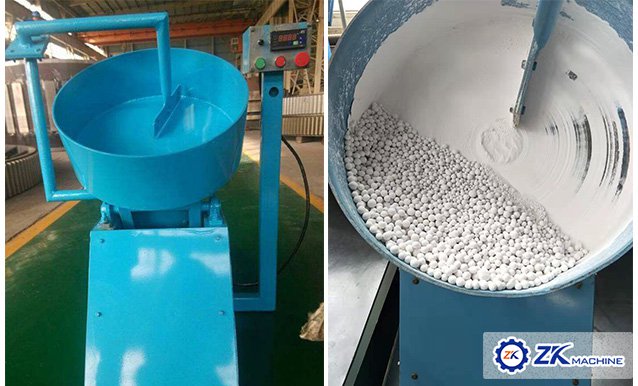 Application:
The disc granulator is the main equipment for pelletizing by powder material and widely used in the following industry:
Environmental protection: fly ash, clay, dust, sludge, etc.
Chemical industry: chemical fertilizers, phosphate fertilizers, mineral materials, lime, carbon black, etc.
Building materials: LECA balls, refractory ceramsite, clay ceramsite, shale ceramsite, ceramsite concrete, etc.
Ceramics: proppants, abrasive materials, etc.
Metallurgy: iron ore, zinc ore, lead ore, alumina, etc.
Working principle:
The uniform particle core was made by raw material powder, then sent into the disc, after that the core go along a parabola by centrifugal force, friction force and gravity in the disc, the moisture will go out of the core surface in the rolling process, because of the cohesiveness and plasticity, the core will become bigger with raw powder in the process. The pellet has well intensity because of the material cohesiveness and the natural volatilization of surface liquid film. When the disc inclination, edge height, rotate speed and moisture all fixed, the pellets with different diameter will rolling down from disc edge by different angle cause of different gravity, then discharging from the disc edge by rotating inclined disc body.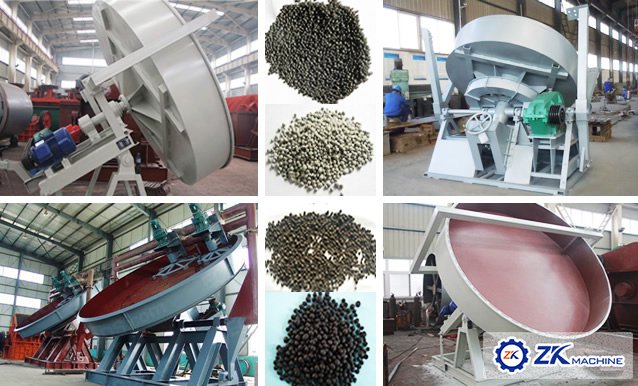 Parameter
1. Unpowered scraper disc granulator technical parameters
Type

Disc Granulator

Power (kW)

Dia (mm)

Height (mm)

Slope (°)

Speed (r/min)

PQ10W

1000

250

35-55

25

4.5

PQ16W

1600

300

35-55

19

4.5

PQ22W

2200

500

35-55

14

15

PQ25W

2500

500

35-55

14.25

15

PQ28W

2800

640

35-55

11.81

18.5

PQ32W

3200

640

40-50

9.06

22

PQ36W

3600

700

40-50

8

22

PQ42W

4200

800

40-50

7

30
2. Powered scraper disc granulator technical parameters
Type

Disc Granulator

Main Power (kW)

Weight (t)

Dia (mm)

Height (mm)

Slope (°)

Speed (r/min)

PQ10

1000

250

35-55

25

4.5

1.8

PQ16

1600

300

35-55

19

4.5

2.7

PQ22

2200

500

35-55

14

15

3.9

PQ25

2500

500

35-55

14.25

15

5.2

PQ28

2800

640

35-55

11.81

18.5

5.7

PQ32

3200

640

40-50

9.06

22

7.3

PQ36

3600

700

40-50

8

22

8.6

PQ42

4200

800

40-50

7

30

11.2