Introduction
Powder grinding plant is also called powder making plant, which is widely used for the powder making in mining, power, chemical industry, building materials, metallurgy, refractory materials, desulfurization of power plant, asphalt mixing station and highway industry, and the product size is adjustable in the range of 20 – 3250 meshes.
ZK Machinery can not only provide powder grinding plant with wide selection ranges, reasonable matching, reliable quality and high performance price ratio for customers, but also offer the overall design and construction scheme of grinding operation as well as the turnkey project of the grinding field.
The Configuration of Powder Grinding Plant:
Powder grinding plant is usually composed of jaw crusher, bucket elevator, electromagnetic vibrating feeder, grinding machine motor, analysis machine (powder separator), auxiliary equipment, blower, centralized electronic device. It also can be configured with micro powder mill, high pressure grinding mill, ultrafine mill, Raymond mill, tricyclic medium-speed micro powder mill or vertical mill according to the different needs of customers.
Application Ranges of Powder Grinding Plant:
It is often used for the grinding and processing of materials in metallurgical, building materials, chemical industry and mining industry, which is suitable for feldspar, calcite, talc, barite, fluorite, rare earth, marble, ceramic, bauxite, manganese ore, phosphate rock, red iron oxide, quartz sand, cement clinker, activated carbon, coal gangue, clay, gypsum, silicon carbide, refractory materials and other non flammable and explosive mineral powder materials with below level 8 Mohs hardness and less than 6% humidity.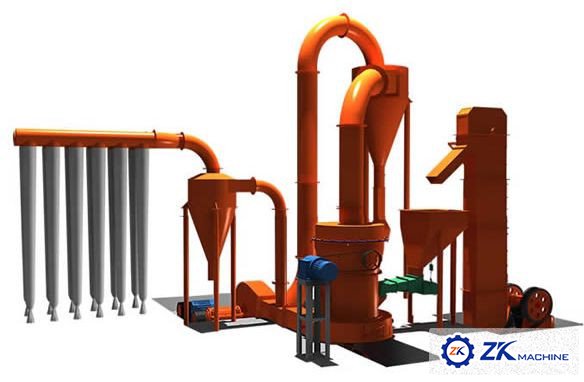 Features
It has rational structure design, which has strong adaptability to materials; wide application ranges; the configuration has great flexibility and high yield; the material has short staying time in the mill, so as to reduce the duplication of milling; low energy consumption, stable product quality.
The equipment adopts high quality material, which has abrasion resistance, long service life, strong ability to adapt to the environment; it has open layout, which has high degree of automation, convenient operation, low noise, and the system works under negative pressure without pollution to the environment.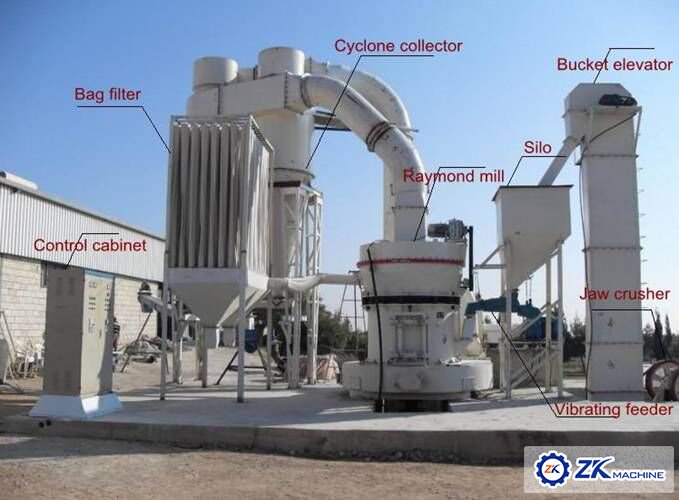 Parameter
Model
Capacity (t/h)
Geometric diameter of grinding disc (mm)
Grinding disc track diameter (mm)
Feeding size (mm)
Moisture of input material (%)
Product fineness
Product moisture (%)
main motor power (kW)
ZKRM1100L
6-9
1520
1100
≤20
<5
325 Mesh(44µm)
90% passed
≤1%
132
ZKRM1300L
12-13
1870
1300
≤25
<5
≤1%
200
ZKRM1500L
14-20
2180
1500
≤35
<5
≤1%
280
ZKRM1700L
18-25
2400
1700
≤35
<5
≤1%
355
ZKRM1900L
25-30
2680
1900
≤40
<5
≤1%
450
ZKRM2200L
30-40
2900
2200
≤40
<5
≤1%
560
ZKRM2400L
40-50
3140
2400
≤40
<5
≤1%
710
ZKRM2800L
50-55
3300
2800
≤45
<5
≤1%
900
Note: Limestone grindability (Bond) ≤13kwh/t。