Introduction
Rotary Cooler
is a equipment that can cooling material via the cylinder rotating to drive material processing fully heat exchange with cool air, which have series advantages like good cooling performance, bigger capacity, high operating ratio, energy saving with environmental protection, easy operation and maintenance and long life time. The cooler can be widely used for industry fields like Cement, Quick-Lime, Ceramic Proppants, Magnesium, etc.
We also supply Vertical Cooler, contact us for details and quotation!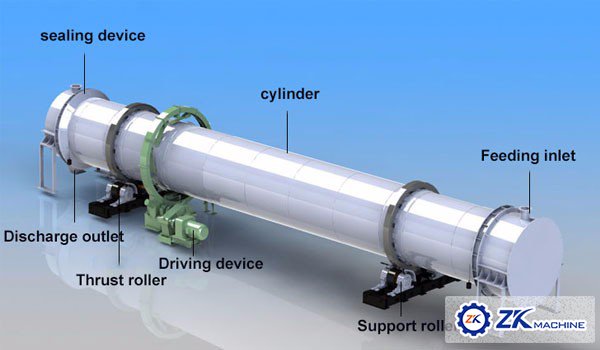 Structure of rotary cooler:

Rotary cooler is mainly composed with Driving device, Support Roller device, Thrust Roller device, Cylinder, Inlet, Outlet and sealing device, the mainly structure features are:
1. The cooler have 2-4 support point(normally have 2-3), that will easily ensure the connecting surface of support roller and tyre parallel to cylinder axis when installation.
2. Supporting device have adopt rolling bearing that have substantially simple supporting structure, which can reduce waste power consumption and easy for change and maintenance.
3. There have adopt heat-resistance steel scales sealing device instead of old labyrinth sealing for cooler inlet and outlet, which have better sealing performance and stronger reliability, also have longer life time and easy for change.
4. There have a certain gap between tyre and cylinder, that ensure the tyre can be tightening on the cylinder to strength the cylinder when normally operating.
5. The Driving system have adopt new type AC inverter speed governing technology, compare with traditional electromagnetic speed governing and DC speed governing, it has better performance on energy saving and environmental protection, also have other advantages like large speed governing scale, high efficiency, high accuracy for speed governing and steady operation.

Features
1. The rack of thrust roller and support roller device is adopt whole welding, processing vibration aging treatment, after remove welding stress, will integrative manufacture by large vertical lathe and boring-milling machine, which will ensure manufacture accuracy and form and location tolerance, also enhance the installation accuracy and reliability of the cooler.
2. Good cooling performance, higher capacity and high operating ratio.
3. Matching with various angle lifting board inside cooler, will substantially enhance the heat exchange rate and reduce cooling time.
4. Compact structure with steady operation and easy for maintenance.