Introduction
Cement vertical mill is a new type of high efficiency, energy conservation and environmental protection of grinding equipment, it is mainly used for grinding raw meal, clinker, which is used in cement grinding station and cement production line. Also can used for grinding slag, iron ore, limestone, coal powder, coke powder, coal gangue, fly ash, volcanic ash, gypsum, calcite, pyrophyllite, quartz, clay, sandstone, bauxite and other processing industry related to metal and non-metal mine.
It gathers grinding, drying and powder selecting as a whole, with high grinding efficiency and high drying capacity ( the maximum material moisture can be up to 20% ). The vertical mill adopts dynamic powder selecting device, which comes with high powder-selecting efficiency and convenient adjustment of fineness.
The material is grinded between rotor and ring as the rotor is rotating. The ground powder will be blown into the classifier; the fine powder will be collected by the collector while the coarse powder will be regrinded to the required size.
Engineering for equipment and technology, manufacturing, installation and commissioning as well as the supply of the spare parts and the training service can be offered by China ZK for customers.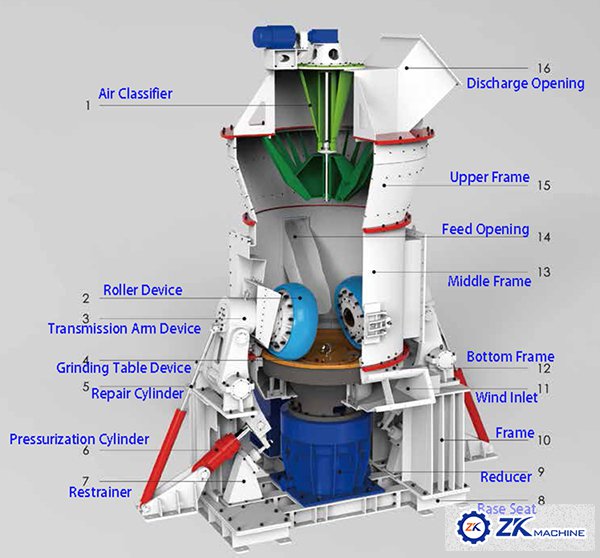 Features
1. ZK series cement vertical mill is developed with the features of high efficiency, energy-saving and environmental protection which is achieved after exchanging ideas with senior experts from home and abroad and making improvements based on same sector experience in the past years.
2. ZK technical center can help our client to finish feasibility study, environment impact assessment and safety assessment and also provides turnkey service with high efficiency.
3. ZK has its own various processing equipment and takes strict control measures on product quality, which results in fast delivery within a short time. Besides, ZK can guarantee completion and operation as scheduled with its strong service team for installation and after–sales service.